Learn More About our Local School Food Champions
Posted: June 12, 2017
Categories: Edible Education Network / GoodFoodBites / News from Sustain Ontario / Schools
To celebrate Ontario Local Food Week, we asked for people to nominate Local School Food Champions – i.e. those incredible people who are bringing local food literacy to Ontario schools (check out #SchoolFoodChamp or our compilation of social media posts).  We'd now like to share the stories that these nominees submitted to us.
To all of these champions, as well as to those with their stories untold: Thank you for everything that you do to bring local food literacy and enhanced well-being to our students!
Elin Marley is one of the most dedicated and magical school garden educators that there is. She is constantly innovating and expanding her repertoire of local food and school garden programming – building and sustaining brilliant abundance in schoolyards and classrooms throughout the year. As a great collector of stories – Elin regularly shares the charming and hilarious insights students have on growing and enjoying their own food – these stories bring some important light into the world – reminding us of the joy of sharing food together.
Sarah Compton works tirelessly about Hagersville Secondary School. She has a wonderful programme that she has built up over the years. Sarah works closely with her colleague Tim Barker in the greenhouse; they have started a garlic growing business call "HSS Glorious Garlics". Together they have planted over 15 varieties of garlic from across Canada!
Stephanie Signorile has been a leader in the garden project at Northern Secondary School (Toronto) since our school's eco-organization first came up with the idea at the beginning of the year. She has organized us, the entire project, and has even secured support from Whole Foods, Evergreen, and the school council. Her tireless work every day includes chasing a bunch of high school students down to contribute and stay on track, which is no mean feat! We already have three wooden beds (built by the school's woodworking class, coordinated by Ms. Signorile) outside the school. Our organic seedlings are germinating inside her classroom, after a group of students planted them with her. She has run events before school, at lunch, and after school and doesn't seem to tire of giving her all. She is leading an event this Saturday at school in which we will be putting soil and the plants into the raised beds. This project is exciting for Northern Secondary School, all are welcome, it would not be without Ms. Signorile's amazing leadership and determination. The students and the school are lucky to have a teacher like Ms. Signorile to show us what commitment and doing good is all about!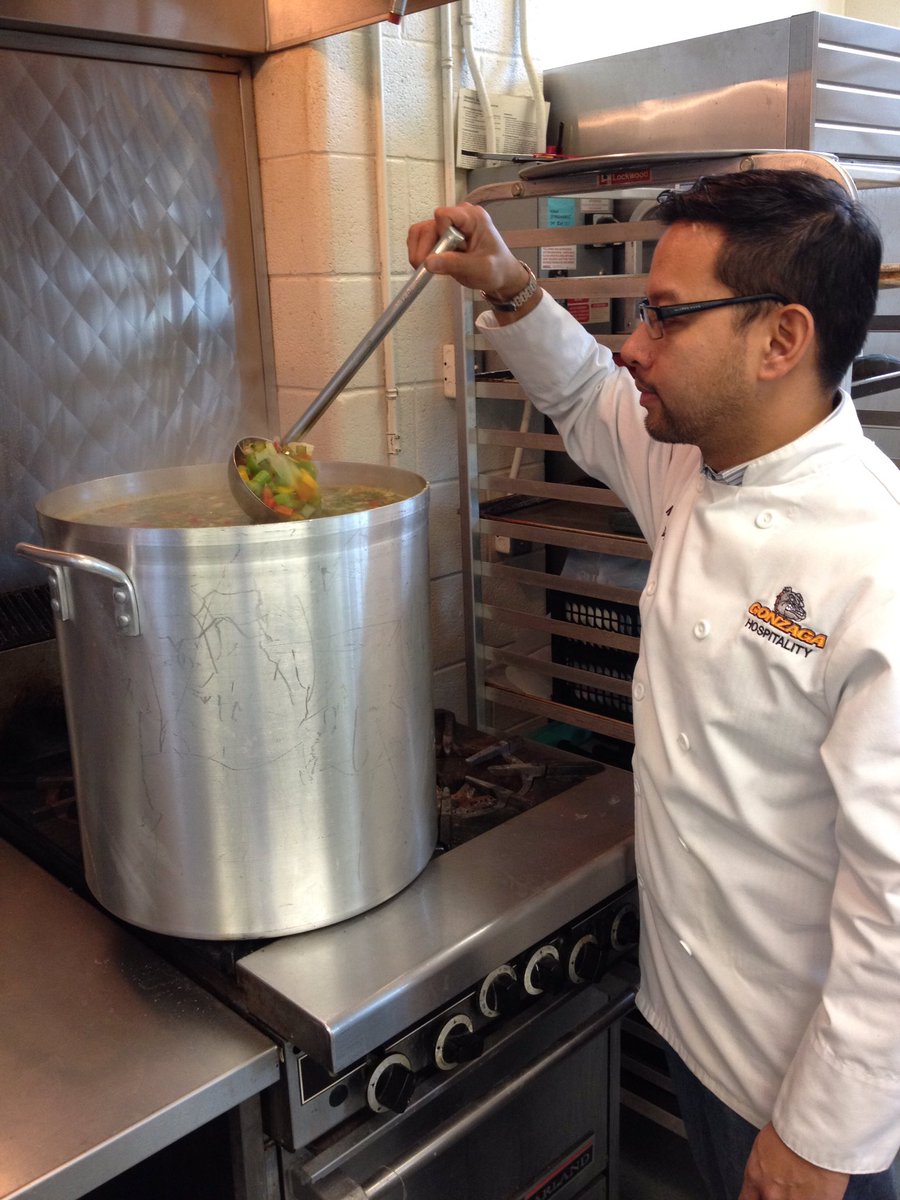 Ramil Andaya is an outstanding educator at St. Aloysius Gonzaga Secondary School in Mississauga that has committed to local food literacy with his students. He brings them to the garden, signs up for all the local food projects that are happening, and works hard to incorporate local product into his hospitality program. He is a true champion!
Kerry Greco has made local food a cornerstone to her hospitality program at Cardinal Leger Secondary School in Brampton. Her students have a local burrito bar, run a local food cooking show, and go on multiple garden field trips every year. Kerry is a true champion!
Theresa Stewart has been on board with the Get Fresh Cafe project at Westgate CVI in Thunder Bay since the beginning. She came to the training with a bundle of enthusiasm and has carried that throughout this pilot year. Switching a high school cafeteria from mostly prepared foods to include almost all from scratch meals that focus on local and Ontario products, was not easy, but thanks to Theresa it happened. Working as the Cafeteria Supervisor with her team of staff she has brought her energy and creative problem solving to the table every day and we sure are grateful that she did. We couldn't do this great work without School Food Champions like Theresa. Check out this great video to see her and her team in action.
Susan Molson has been involved with delivering the school breakfast program at D. A. Moodie Intermediate School in Ottawa for over 8 years. She coordinates teams of students to serve the nutrition program while overseeing another team that is prepping for the next day. She uses a variety of fruits, vegetables, whole grains and dairy products. When possible, she uses direct from the farm organic produce. Her school is closing (due to enrolment) and I would like to recognize her for her key role in promoting healthy eating & basic cooking skills at D. A. Moodie Intermediate School.
Jo Low has created a new program in Niagara called Community Roots, which offers school workshops on food literacy and nutrition based on the curriculum. She makes learning about plants, soil, innovative food gardens, nutrition, cooking, local & global food systems and food justice fun for students of all ages. Her passion for educating children and encouraging them to eat healthy foods shines through her workshops and makes her an engaging and inspiring educator! This new program is now in it's second year and teachers are raving about the fun learning environment Jo offers and booking repeat workshops for their schools.
Local food literacy is an important part of the hospitality program at RF Hall Catholic Secondary School in Caledon, led by Stan Zerdin. For years, Stan and his students have connected with local farmers and even attended farmer's markets to sell their prepared food. This year, Stan and his students have started a local salad bar and received workshops from Ecosource about food systems. Stan regularly brings his students to the Ecosource Teaching Garden too!
Tara Vesa is a true school food champion – she spearheaded a brand new food and nutrition class at Dennis Franklin Cromarty high school! She added vermi-composting to her class, grew sprouts with her students and hammered out three farm to cafs in one semester! Way to rock it Tara – your students and school are lucky to have you!
Lori Zuccato started the healthy eating initiatives at Norman Johnston Alternate Secondary over fifteen years ago. Her first step was convincing the administration and staff that we didn't need to sell chips, chocolate bars, and hot dogs to students in order to make money. She then brought in healthy things for students to eat, such as weekly salad bars and fruit smoothies. For a couple of years, she would help groups of students make healthy meals then take them to a retirement home to enjoy with the seniors. She also obtained funding and designed a foods room from which she oversees the breakfast program. A lot of staff is involved with healthy eating initiatives now, but it all started with Lori.
Lyndsay Davidson has been Registered Dietitian at the Chatham-Kent Public Health Unit since 2004.  She is part of the Chronic Disease and Injury Prevention Team focusing on Adults, Food Security and Food Systems.  Lyndsay played a key role in implementing the OSNP-Soutwest Region's Farm-to-School Pilot Program in Chatham-Kent, which brought farm-fresh local food and awareness of local food to students across the region through the schools' Student Nutrition Program.
Sarah Sommers, Shamima Basrai, and David Markus, teachers at Castlebridge Public School, have put in countless hours of their time to start a food literacy revolution at their school, culminating in a community garden. Not only have they started a sustainable school garden that involves the whole school, but they share their knowledge with other teachers in collaboration with Ecosource's Teacher Education program. Castlebridge PS has been a long time partner of Ecosource and every year we are so impressed with the time and energy that Sarah, David, and Shamima put into this project for their students.
Diane Wilson runs a garden club with her students at Hillside Public School in Ecosource's Hillside Community Garden. Every year the garden club grows, with over 25 students this year! The students are so enthusiastic and they do an amazing job taking care of our community plots so that more food can be grown for a local food bank.
Andrea Rowe has been active in encouraging edible school gardens, starting with her own sons' schools and quickly helping nearby schools in Halton. She is crafty, resourceful and extremely knowledgeable in connecting curriculum with gardening, helping teachers bring the classroom outside to learn and grow.  She has gone beyond her duty at the Halton Food Council to apply for grants to fund outdoor projects and to promote healthy, local food for all ages through education workshops. She worked with Public Health Nurses in schools to promote healthy eating. Andrea volunteered to consult on garden project developments for many community groups – Halton Environmental Network, Greening Sacred Spaces and Kerr St Missions. Andrea's contribution has had as significant impact on the learning and well-being of many school children. Her work establishing a Farm to School Salad Bar at Oakwood Public School was featured in Sustain Ontario's webinar Eating for Local Food Literacy in Ontario Schools in February 2017.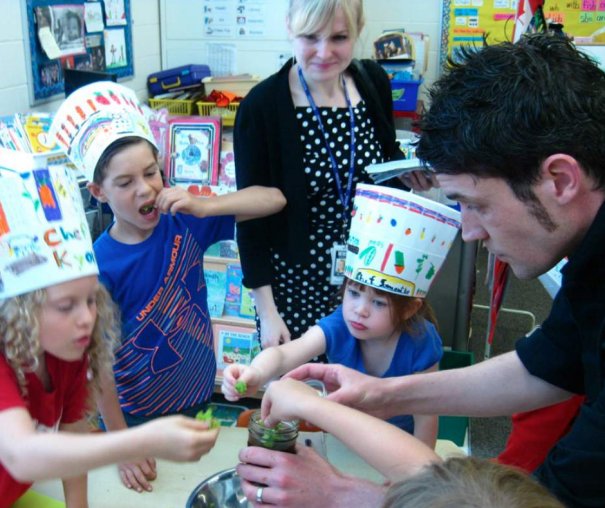 Andrew Fleet, the founder and Executive Director of Growing Chefs! Ontario, has designed, implemented and coordinated successful food education programs that have served thousands of children and youth in London and area.  Andrew shared his experience of how Growing Chefs! brings local food literacy to schools on Sustain Ontario's Cooking Up Local Food Literacy webinar.
Kim Rosehart brings food literacy education into her science class at Heydon Park Secondary School in Toronto in all kinds of innovative ways – her students are starting seedlings, maintaining a new outdoor garden, growing hydroponic lettuce for their salad bar, learning about Indigenous food systems, and food justice. Kim writes grants for Heydon Park's local food literacy projects and is constantly collaborating with FoodShare staff, colleagues at other schools, and staff at Heydon Park. She is truly committed to the local food initiatives at her school and to her students.
Darren Beer at Bendale BTI in Toronto cooks two separate lunch services from scratch with his culinary students each day. He takes foods they want to eat and teaches them how to make them from scratch with healthy, local ingredients. He is always putting in extra time to give his students exciting local food learning opportunities like preparing dishes for the Recipe For Change fundraiser where they cook alongside the city's best chefs, or the Royal Winter Fair Cooking Competition where his students won first place in the healthy local school lunch challenge in 2015.
Erin Mutch has played a lead role in bringing the "From Our Valley" local food literacy program to the Thames Valley District School Board. Through the collaboration of the TVDSB Environmental Education portfolio and Ecosource environmental organization, the program supports connecting secondary schools with the local food system. During the 2016-2017 school year, students have participated in experiential field trips to local farms and restaurants followed by development of their recipes for two seasonal local food contests. Educators from the same schools participated in two days of professional learning which brought together a variety of professionals from the community who are interested in supporting students' connection to the social, environmental and economic benefits of local food. This exciting new program is expected to continue to grow and aims to reach more students for the 2017-2018, in no small part due to Erin's passion for local food, vision for the community, and commitment to creating a strong network of local food champions from the start!
Jen Coorsh works with Growing Up Organic in Ottawa to get students growing gardens in schools across the city.  In her presentation on Sustain Ontario's Growing Local Food Literacy in Schools webinar, she explains that from math to art to literacy, "gardens are the answer to 'why are we learning this?'"
Lisa Haagsma works hard to bring local ingredients and local food education into hospitality classrooms at Montcalm S.S. in London, Ontario. Lisa has coordinated engaging field trips for her students to get an up-close look at the local food system by visiting local farms and markets. Her students also had the opportunity to take part in a seasonal student cooking contest, entering delicious local soups they had developed in-class. Lisa has been a wonderful asset during two teacher training days on local food literacy, sharing with colleagues her experience making local food relevant and meaningful to students.
Jana Keller is the chief organizing & garden officer for Beautiful Edibles, an innovative social enterprise that supports urban agriculture across London, Ontario. Her startup business is providing mentoring and expert support to a number of food growing initiatives at TVDSB schools. Jana also lends her time to being part of the "From Our Valley" Steering Committee to develop the TVDSB local food literacy program. Teachers had the opportunity to learn about seed diversity and growing food in containers from sessions led by Jana at a recent teacher training day in the Thames area.
Stephanie Segave is being celebrated as a Local School Food Champion for her leadership in bringing the OSNP-SW Farm-to-School initiative to the Thames Valley! This new program provides children with healthy, locally-sourced snacks. Partnered with Western University, best practices coming from the pilot will support increased local food procurement for Ontario Student Nutrition Programs in the region and beyond.
Nancy White is a tireless local school food advocate. She has been responsible for organizing, preparing and serving many local food lunches with her classes to the whole school population at Hammarskjold High School in Thunder Bay. Nancy always finds ways to bring the food grown in the school gardens to as many students as possible. From pasta lunches with school grown tomato sauce to soup and salad bars with school grown greens Nancy knows what it means to bring local food into the schools!
Linda Willson has been instrumental in developing the Kids Can Grow Program on Manitoulin Island, a school-based program that teaches students vegetable gardening, along with the storage, processing and preparation of home grown food.  Practical skills are coupled with teachings about the cycle of life, the four elements and healthy living. Kids Can Grow is now in eight schools on Manitoulin Island and has evolved to include school, community and home gardens, workshops around food preparation and community feasts featuring home grown food. The Kids Can Grow team is now engaged in mentoring communities and families on vegetable gardening skills.  Linda shares more about the program on Sustain Ontario's Growing Local Food Literacy in Schools webinar.

Karen Watt at Superior CVI in Thunder Bay is a creative local food champion, she is always coming up with clever ways to implement local food literacy into her lessons and is open to trying almost anything! Her and her classes take care of the school garden, and cook with local food lots. This year, her and her students made an all local meal when learning about Food miles – the gravy was even made from Elk! #creativecooking #whatachamp
Tricia Cibinel at Superior CVI in Thunder Bay fills her class time with hands on food related educational opportunities. She places high value on the school garden and prioritizes its care to an impressive degree. Not only do her students learn about growing food, they also learn how to preserve it! Tricia implements canning and jam making lessons throughout her semesters! #preservingknowledge
Heather Foster at Hammarskjold High School in Thunder Bay is a passionate gardener and educator. She never misses an opportunity to bring food literacy into her lessons. She implements growing food, and tending to the school garden into many of her science classes! Thanks to Heather, Hammarskjold high school has an award winning garden, and a student body with a passion for growing food.
Lily Ciddio is a true #SchoolFoodChamp. Not only did she start at a brand new school this year but she was essential in launching the Get Fresh Cafe at Westgate CVI in Thunder Bay. Throughout the year her students harvested, preserved and replanted the garden, they prepared food for the cafeteria all year and they put on multiple events for their school community. Lily does this all with a gorgeous smile on her face and with an incredible sense of joy and openness to learning new things. #couldn'thavedoneitwithoutyou
Kaitlyn Visser & Shiba Anjum are a part of a team that are implementing a healthy salad bar program at Oakwood Public School in Oakville. Shiba (far left), the project coordinator, is a parent volunteer who is passionate about wellness for students in the school community.  Kaitlyn (centre bottom) is a Public Health Nurse with Halton Region, who supports the school with various Comprehensive School Health initiatives, including food literacy as it relates to the salad bar program.  Kaitlyn and Shiba share the amazing ways that they're bringing local food literacy into their program on Sustain Ontario's Eating for Local Food Literacy webinar.
Rosemary Tomlinson-Morris at Dennis Avenue Community School works tirelessly to ensure that her kindergarten students are cared for and feel special. Every time FoodShare is in a workshop with her, the team is impressed with her ability to adapt lessons in language and verbal skills using the Good Food Machine tower garden. Her enthusiasm for growing food is shared with her students and her students are excited about eating fresh salads (no dressing please!), she's helped them identify herbs from other plants and created delicious pesto using basil from her tower garden.
AnneMarie Armstrong is a kind, fun and caring teacher at D.A. Morrison Middle School in Toronto. AnneMarie finds creative ways to engage students in talking about and experiencing growing food using the tower gardens and outdoor garden spaces. Students have been enjoying working with the tower gardens and it has had an impact on their concentration and even writing skills. AnneMarie noted that one student on the autism spectrum who had very poor attendance last year has barely missed a day of school this year, and she thinks it has something to do with the students attachment to maintaining and interacting with the tower. Another student who had difficulty coming up with subjects to write about during free style journaling time was able to write freely and with expanded vocabulary when it came to writing about the tower.
Dave Servos is so committed to school food projects at Eastdale CI in Toronto. He started a new locally developed full semester course called Seed to Market where students spend every day planting, growing food, and visiting community food projects. Dave brings capped honey from his beehives into school so students get a chance to harvest and bottle local honey. He's a lead on the new salad bar program – where students act as good food ambassadors encouraging their peers to eat healthy foods. His students grow hydroponic lettuce for the salad garden. He brings food into every class!
Liz Lundy is celebrated as a School Food Champ for for bringing the garden into the classroom & ensuring that every kid gets their hands dirty
Catherine Sulkowski organized over 30 classroom teachers at Eagle Heights Public School to receive hour long programs with Growing Chefs! Ontario.  She managed to develop a schedule, keep teachers informed of upcoming program requirements and helped the Growing Chefs! team navigate a massive school all on top of her regular full time work load. Her efforts made it possible for the program to see all 900+ students in just two and a half weeks – twice this year! This is a massive undertaking that usually requires support but in Catherine's case she took the information provided and made things happen fast! In addition she has volunteered her time, along with many other fantastic school champions to help Growing Chefs! develop some further resources for teachers to use to extend/ build upon what was started.
Katie Keyte is a parent who has worked tirelessly to develop the Green Team at Highview Public School in Hamilton. She has worked with Neighbour to Neighbour Centre staff for several years to establish Highview Public School's perennial and salad garden. Each spring, Highview students participate in a Salad Day where they prepare and eat the delicious and healthy greens they have grown in their garden. Katie also worked to have the Highview Green Team garden become a part of the Hamilton Community Garden Network in order to make use of the support that Neighbour to Neighbour Centre provides to community gardens throughout Hamilton. She attends community garden meetings with other coordinators to learn more about gardening best-practices and how to make gardening an engaging and exciting experience for students at Highview Public School. Katie has also made use of resource support from Neighbour to Neighbour to purchase books to create a very robust gardening section in the school library. Students, teachers and parents can borrow the books to continue environmental and garden education. Just a few weeks ago, Katie planted asparagus, strawberry and raspberry with Highview students. Students will learn to care for these plants and will get to taste the delicious harvest from them every spring!
Save
Save
Save
Save
Save
Save
Save
Save
Save
Save
Save
Save
Save
Save
Save
Save
Save
Save
Save
Save
Save
Save
Save
Save
Save